Our platform allows companies to setup communities where they can invite members of their supply chain to participate. To create a community, navigate to your Dashboard and open the community selection dropdown by clicking on the name of your currently selected community. Click on the add button to create a new community.
Fill out the 'Create a Community' form.
Here are some best practices we recommend:
Be sure to enter a 'Reply-To Email' address, so that if a supplier responds to an email sent from Connect, you will receive their message.
Choose a community name your suppliers will recognize. This is the name that will be displayed in the invitation email they receive when you invite them to your community.
You can modify this information at any time by clicking on the cog wheel and going into the 'Admin' section, selecting the 'Communities' tab and 'Community Information' page.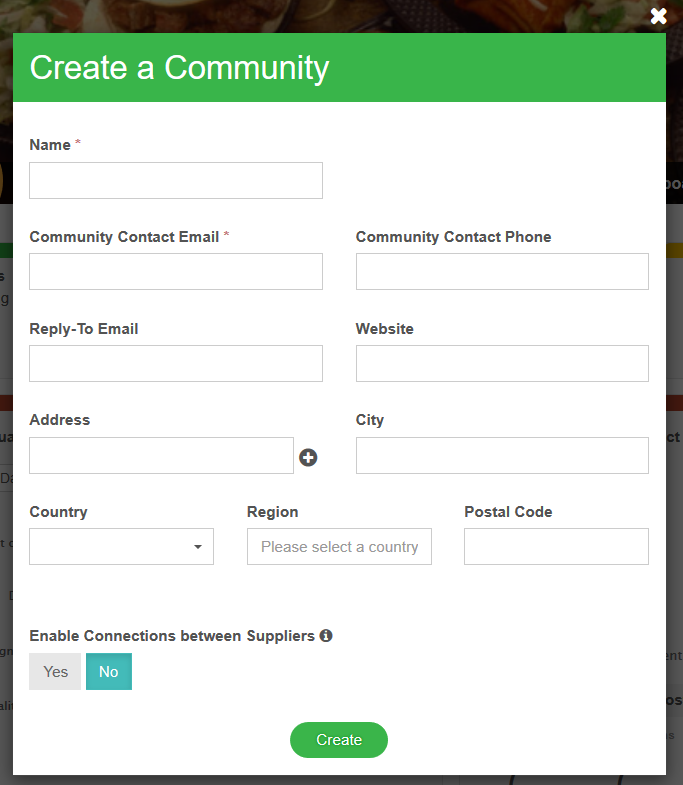 Enable Connections between Suppliers
Select "Yes" if you'd like members of your community to be able to lookup each other's location details. This can be helpful if you'd like your suppliers to indicate which distribution centers they ship to. This would allow them to connect to the distributor and find their locations.
Restricting Location Types
You can choose to restrict what location types this community can connect with. Using the example above, you could restrict suppliers from only locating distribution facilities vs. all location types.
Steps:
1. Click Yes on the Enable Connections between Suppliers option.
2. Click Yes on the Enable Connections with Supplier Locations.
3. Click in the Connectable Supplier Location Types to display and select the location or locations you wish the new Community to connect with.
Want to learn more about Getting Started in FoodLogiQ Connect? Check out these quick videos or submit a request below.