We believe that listening to our customers is key in helping us build an amazing product. As a result, we greatly value and encourage customer feedback in a variety of formats.
The Idea Exchange is a tool built by the Trustwell product team to crowdsource wisdom from our customer base. Through it, Trustwell customers can submit ideas about FoodLogiQ, including suggestions for changes, improvements or issues, to help inform the product team as they create, develop and expand. In this way, the Idea Exchange is a mutually beneficial place for customers to express their thoughts surrounding the product, and for the product team to better understand customer focal points and desires.
The Idea Exchange is available to all FoodLogiQ platform users. Through it, visitors can create and submit ideas, as well as prioritize, subscribe to, "like" and comment on ideas from other customers or Trustwell staff. Submitting, subscribing to or "liking" an idea will ensure that users receive notifications when action is taken on it.
While the Idea Exchange does not determine the direction or contents of the FoodLogiQ product roadmap, it is a space that helps the product team better understand the issues our customers are experiencing, as well as the requests our users have. All ideas will be triaged by the product team and given a status that is visible to FoodLogiQ users. Some ideas will be included and/or considered for future product development, while others may not fall within Trustwell's strategic direction for the FoodLogic product line.
In addition to providing visibility into the progress of ideas through statuses, the Idea Exchange also gives Trustwell customers insight into what has been previously released. You can select "Released" to review the specifics of past releases, including ideas that were featured in them.
Read on to learn how to best use the Idea Exchange:
How to Submit an Idea
In order to submit a new request as an external user, click on the green ? button in the bottom left corner, and then select FoodLogiQ Idea Exchange - Submit an Idea.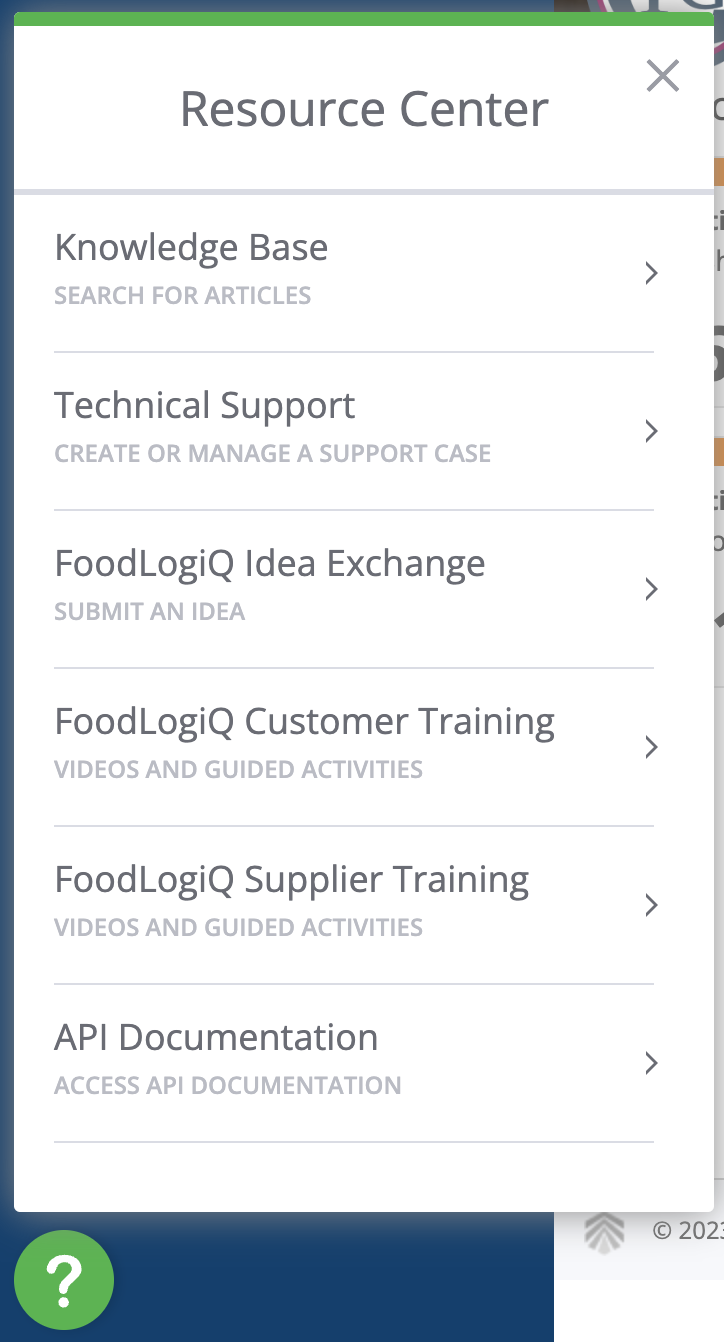 You can either submit a new idea with the side panel, or select the arrow icon in the top right corner to open up the page in a new tab.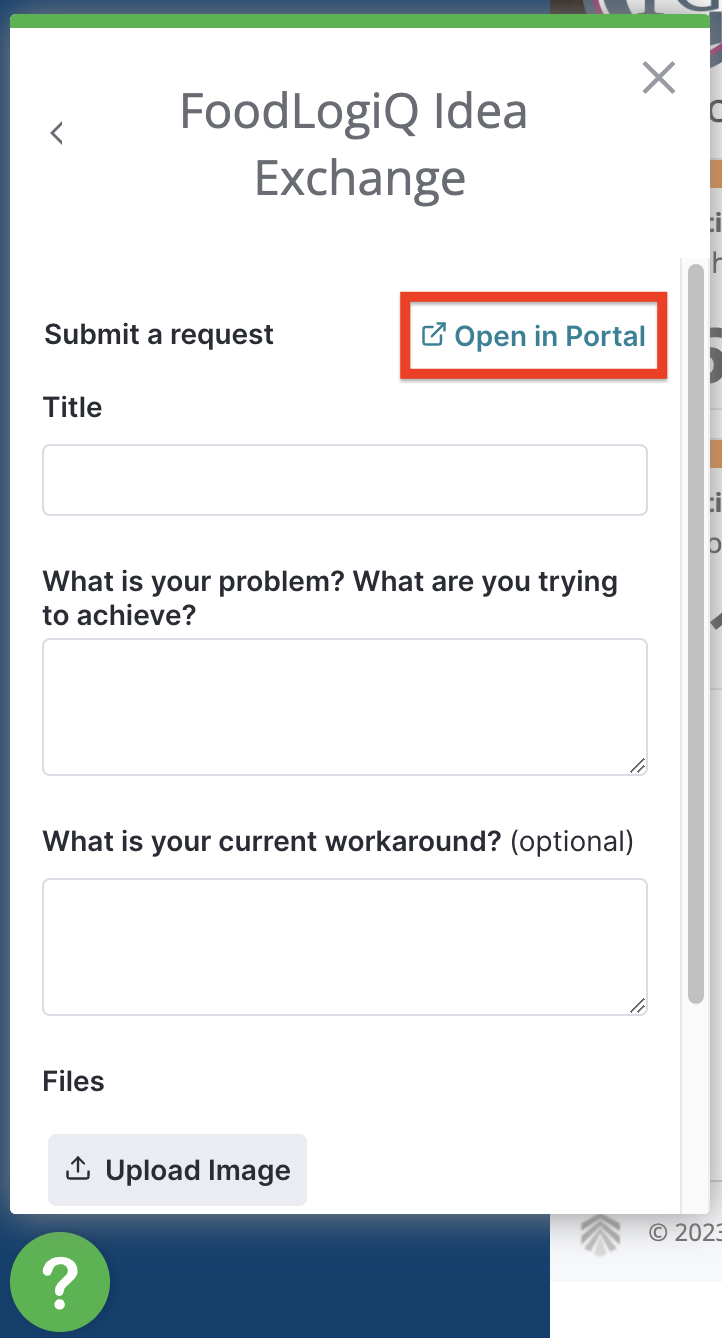 Opening the page in a new tab will allow you to view your Dashboard, where you will see additional options to Make a Suggestion, view My Priorities, review Recently Released and view ideas Suggested by Others.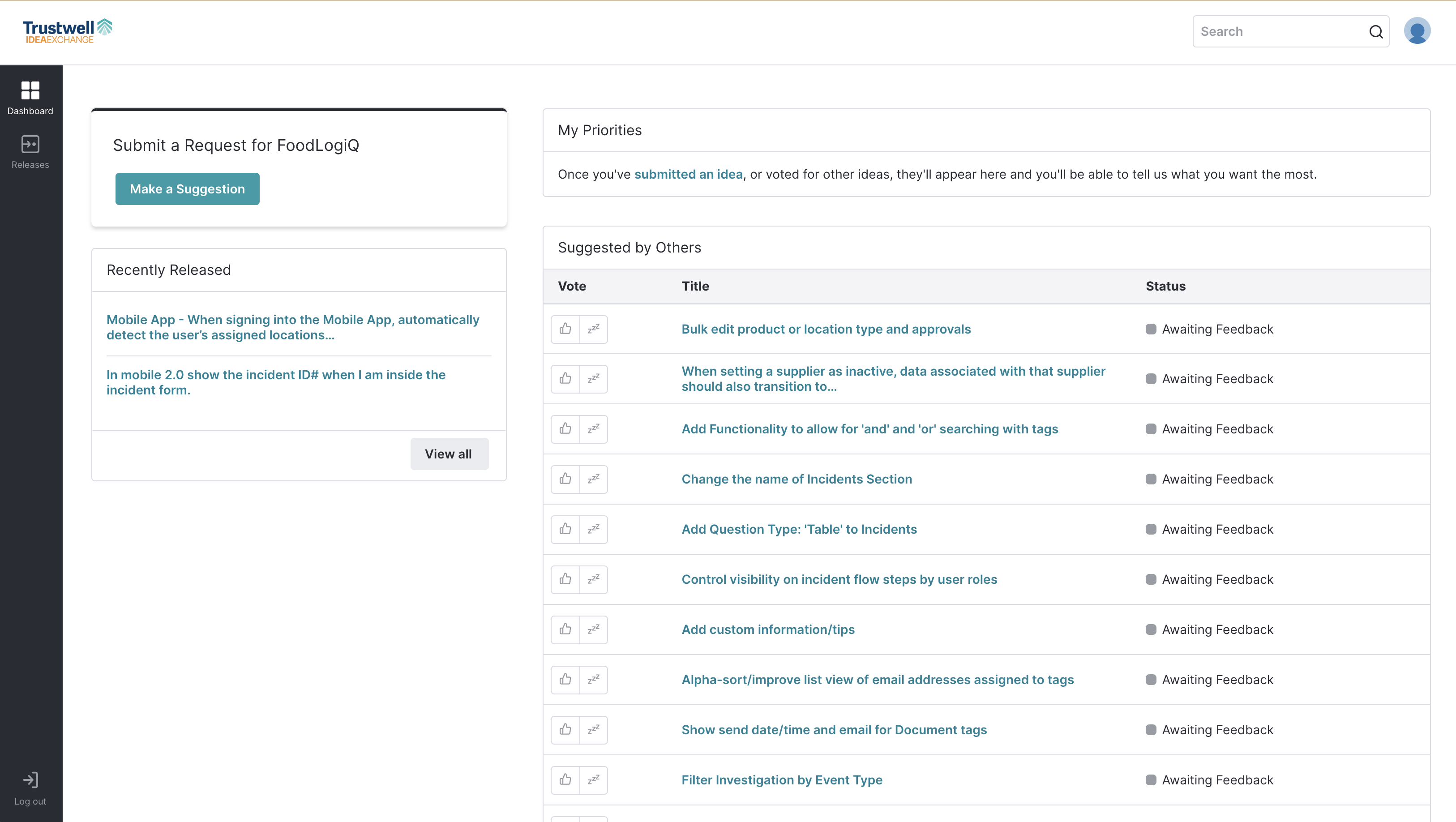 Before adding an idea to the Idea Exchange, it is always best to see if your idea already exists. You can do this by searching within the Search Bar located in the top right-hand corner and browsing through the list of ideas Suggested by Others, or by reviewing suggested matches when submitting a new idea.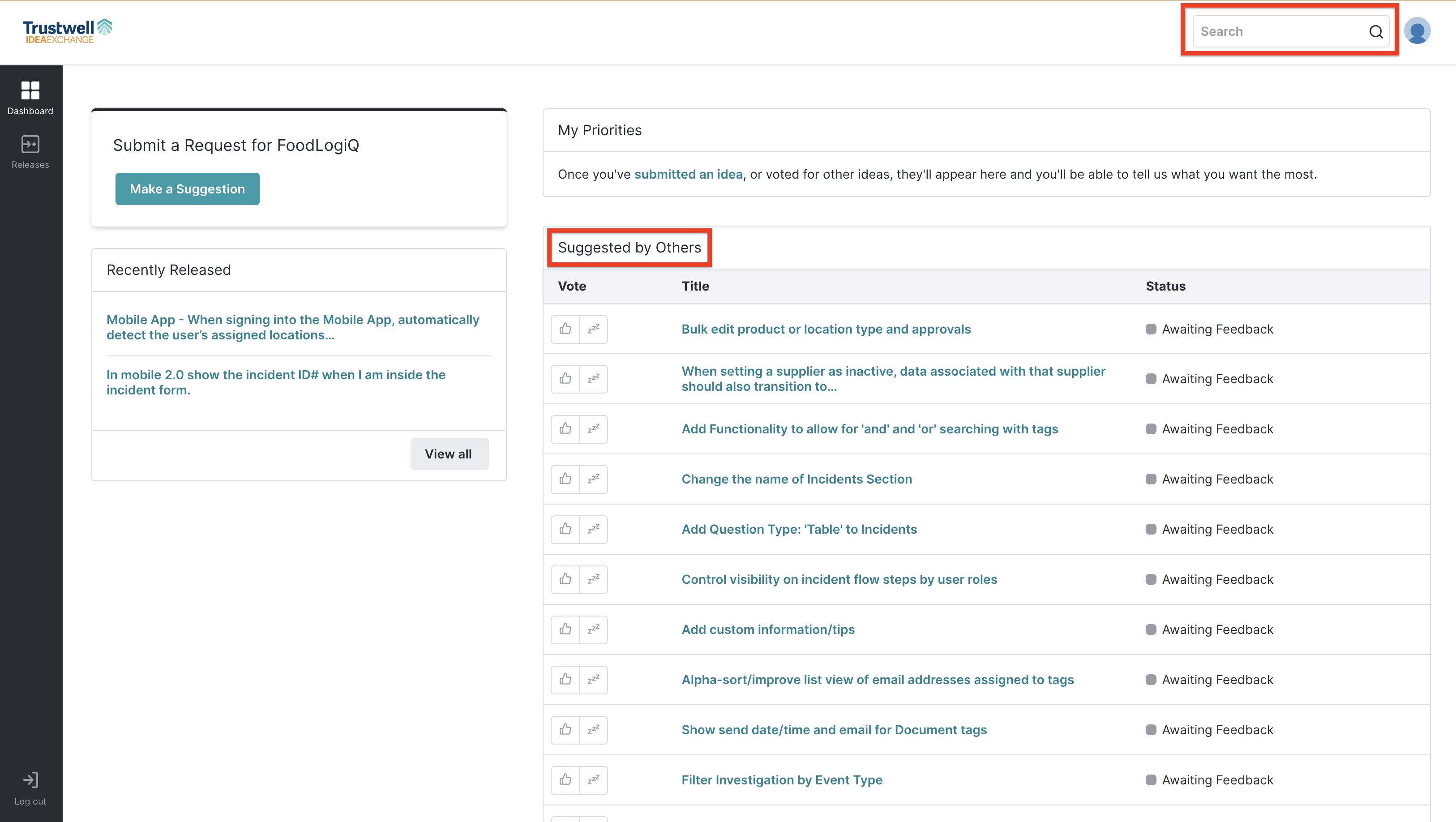 If you have found a suggestion that already exists, you can "like" it by clicking the thumbs up icon. Once you like an idea suggested by others, it will move to the My Priorities section and automatically subscribe you to it. You will begin receiving notifications related to this suggestion, such as status changes or comments. In order to move it out of My Priorities and/or unsubscribe to the idea, unselect the thumbs up icon.
NOTE: Liking or subscribing to an idea does not increase the likelihood of its generation. However, it gives the product team an idea of common problems and requests among Trustwell customers.

In order to submit an idea, click on Make a Suggestion.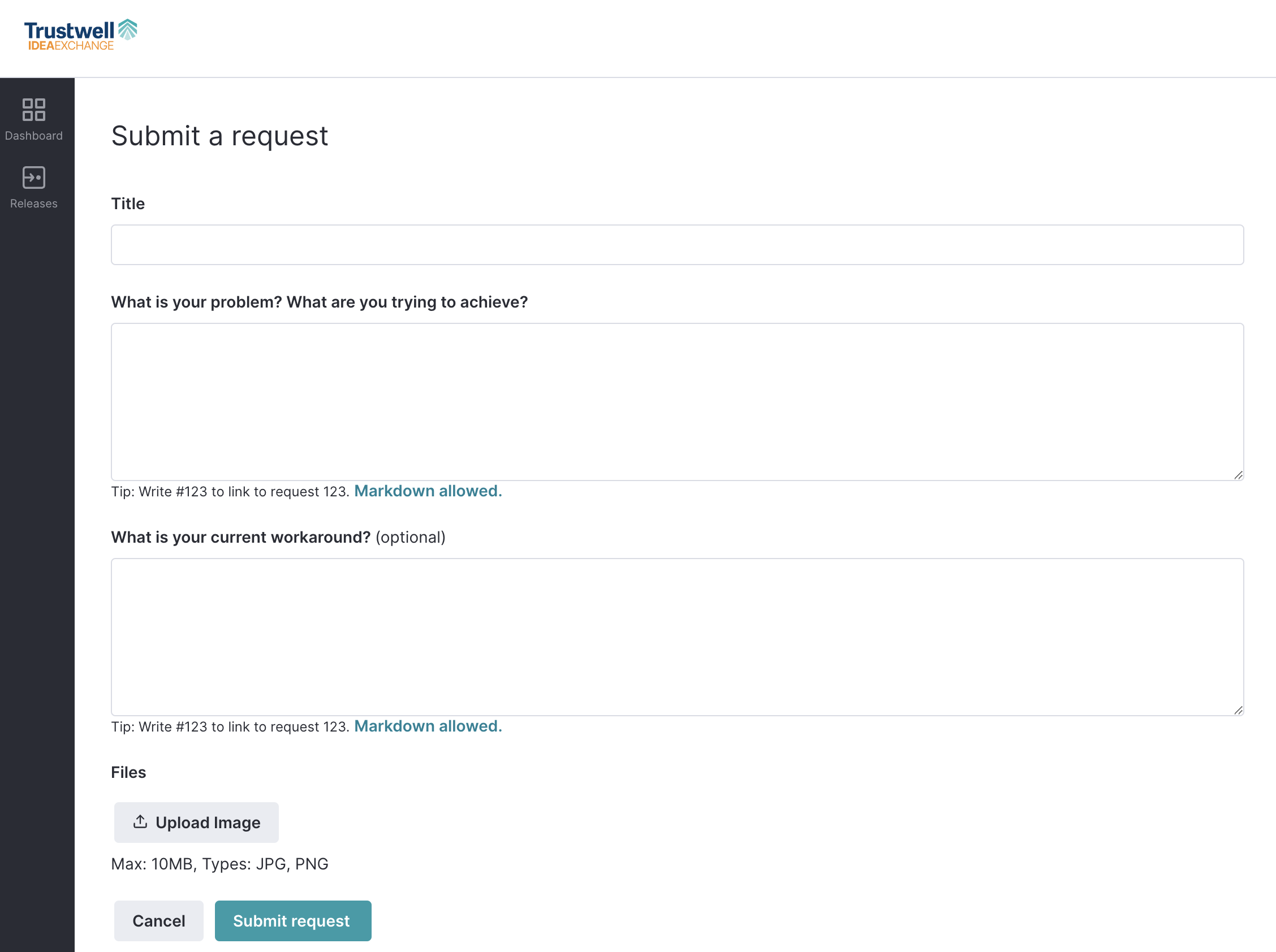 When submitting a request within the Idea Exchange, you will be asked to fill out the following:
Title - This field is required. Your title should get right to the point in about six to eight words. Place the most important words at the beginning.
What is your problem? What are you trying to achieve? - This field is also required. Try to provide a use case or scenario in which a particular idea helps solve your problem or business need. This helps in identifying the precise issue at hand, and also makes it easy for other customers to understand and potentially subscribe to the idea.
What is your current workaround? - This field is optional, but very useful. It helps Trustwell understand the lengths you are taking to circumvent or resolve this issue.
Files - This field is optional as well. Attach any files, such as screenshots or examples to better help the product team understand your request.
6. Once you hit Submit Request, you will receive the following confirmation message with the ability to submit another, by clicking Add Another request, or review, by selecting See My Request.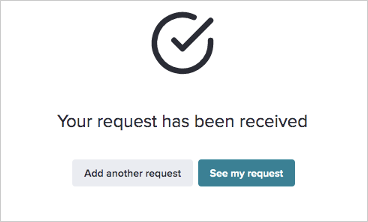 7. If you select Add Another Request, you will be redirected to the request page.
8. If you select See My Request, you will be redirected to the details page related to the request you just submitted. Here, you will be able to edit the request by selecting the edit icon, located in the top right-hand corner of the page.
9. Once you have submitted your idea, you can preview it by clicking on Dashboard in your left navigation bar and going to the My Priorities. Here, you have the option to prioritize your "liked" ideas, which provides the product team with insight into the level of significance this idea has for you in comparison with others.
10. In order to view a discussion thread or add additional discussion items related to an idea, click into the idea and scroll down to the Discussion.
NOTE: Once you have added a discussion item, it will be visible to all visitors.

Responding to Your Feedback
Within the Idea Exchange, ideas will reflect specific statuses, including: Not Reviewed, Awaiting Feedback, Planned, Building, Released and Declined. This section describes each status' meaning, as well as the product team's role in reviewing, determining and updating ideas and their respective statuses.
Once you submit a request, it will immediately reflect the 'Not Reviewed' FoodLogiQ product managers will receive a notification regarding the request and triage it accordingly.
The appropriate product manager will review all new ideas, making sure they understand the problem that is being presented. In cases in which one idea is a replica of a previously submitted idea, or if two ideas are extremely similar to one another, the product manager may merge the two. The submitter will receive a notification informing them that their idea has been merged with a previously submitted idea.
If the product manager does not understand the idea, a discussion thread may be started to get more clarity from the submitter.
If the submitted request is clear (and no further clarity is needed), the product manager will change the request's status to Awaiting Feedback. During this stage, the product team monitors additional activity on the idea by other users (such as likes, subscriptions and comments) to gauge demand, gather use cases and better understand impact and value.
If the product team decides to include an idea in future development, the idea's status will change to Planned. This signifies that the suggestion has been accepted and is planned for development.
When an idea is actively being worked upon, the product team will update the request's status to Building. This means that the idea is currently being developed.
Once the idea is available in production, the product team will update the status to Released. All released ideas can also be found by clicking Releases in the left navigation bar.
Lastly, in some cases, an idea may already exist, and may not meet Trustwell's strategic direction or may be out of scope. In this scenario, the product manager will update the idea's status to Declined and provide an accompanying explanation.
Anyone who has submitted, liked or subscribed to a specific request will be notified when the status is updated or when information is added to the discussion section. In addition, the product team will always provide an explanation of the status update.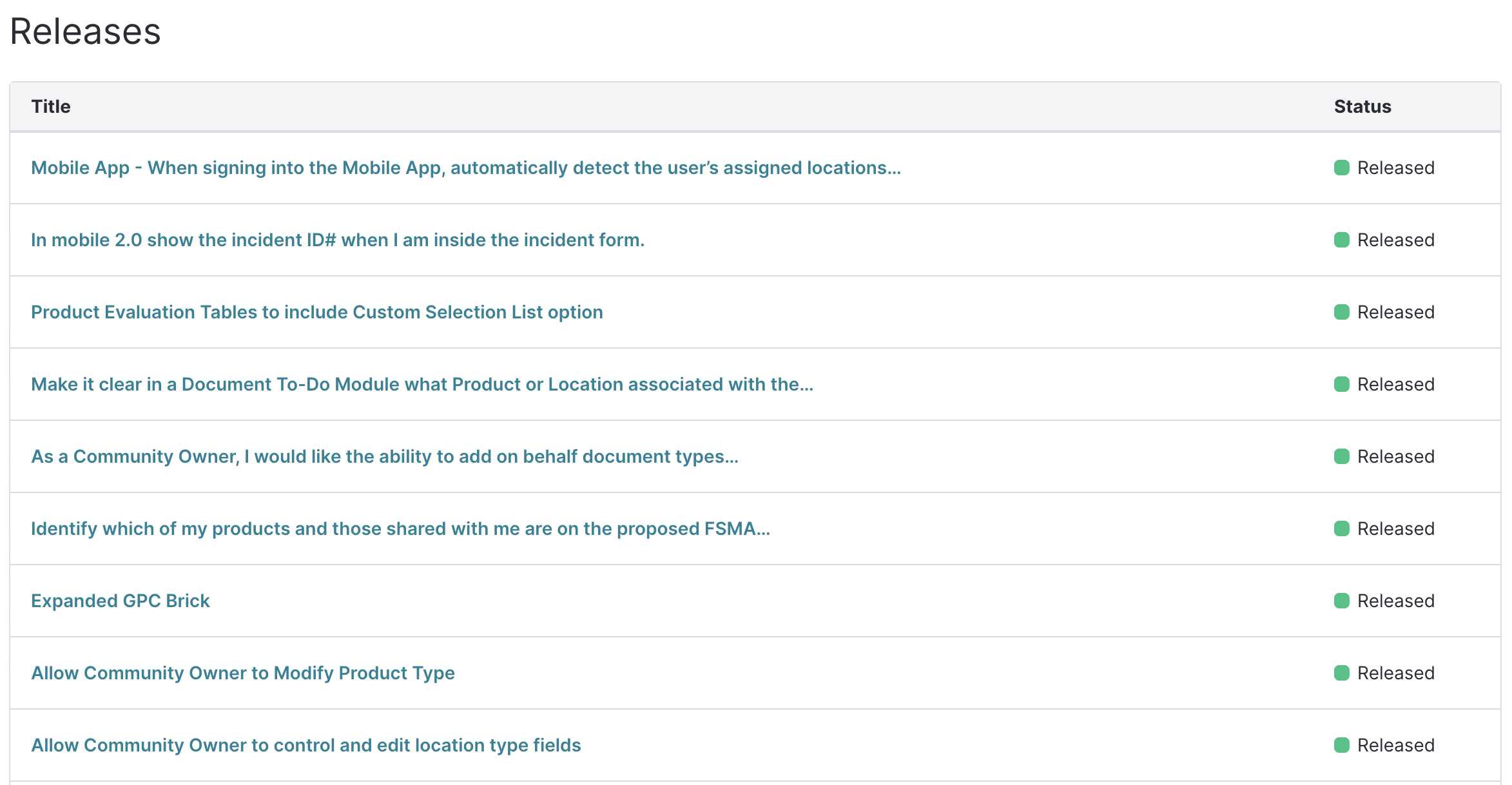 The Trustwell Idea Exchange is a great place to stay informed on current ideas, requests and related activities. It will always offer up-to-date information about idea statuses, including ones that are currently in development and those that have been included in previous releases. For additional insight into Trustwell's roadmap for FoodLogiQ products and upcoming releases, attend Trustwell customer webinars, subscribe to email updates, and communicate with our customer success team, when applicable.