As a community owner in Connect, keeping your supplier data up to date ensures accurate reporting and eases operations within the system for your community members.
Best practices on data upkeep include periodically reviewing suppliers, locations, products, and documents, and inactivating or archiving entities which your business no longer engages with. Inactivating or archiving is recommended over deleting data, as it preserves historical records that could be useful during an audit or business review.
Here are some additional tips for how to maintain your account withing FoodLogiQ Connect:
Make it a Habit: Logging into Connect should become a part of your daily/weekly routine. Set reminders to check-in until it becomes a normal part of your day.
Continue Learning: As FoodLogiQ evolves, we will provide announcements and education as well as access to a Preview environment to explore new features. This is an opportunity to learn the benefits and how to use them so you can take advantage.
Establish Goals: Setting priorities within your organization and focusing your attention on what matters will make a difference. Celebrate your achievements and support your team in exceeding them.
Use Your Resources: We offer a number of opportunities to stay engaged and informed as well as participate in the Idea Exchange, User Group Conferences, and attend Customer Training Webinars.
Be a FoodLogiQ Champion within your Organization: Today, your use of FoodLogiQ may be limited to your specific team and current projects. Your needs within your organization may shift and evolve. You may find new ways to use FoodLogiQ and we encourage youi to be creative and open minded.
Supplier, Product, and Location Statuses
Statuses are crucial for accurately portraying your business's relationship to suppliers, products, and locations. Using approval flows (for products and locations) and supplier statuses (for suppliers), you can configure statuses that account for inactive suppliers, locations, and products.
Periodically reviewing products shared with you in Connect to inactivate LTO/seasonal offerings, discontinued products, and products from inactive suppliers will exclude these items from drop-down menus on all Incident and Event types, along with filtering them from your Dashboard widgets. Assigning a product to an inactive status is also a great way to manage supplier-deleted products.
To inactivate a Product, find the product on your list view:

Withing the details of the Product, click on the "..." icon in the top right-hand corner and you will see the option to "Inactivate Product":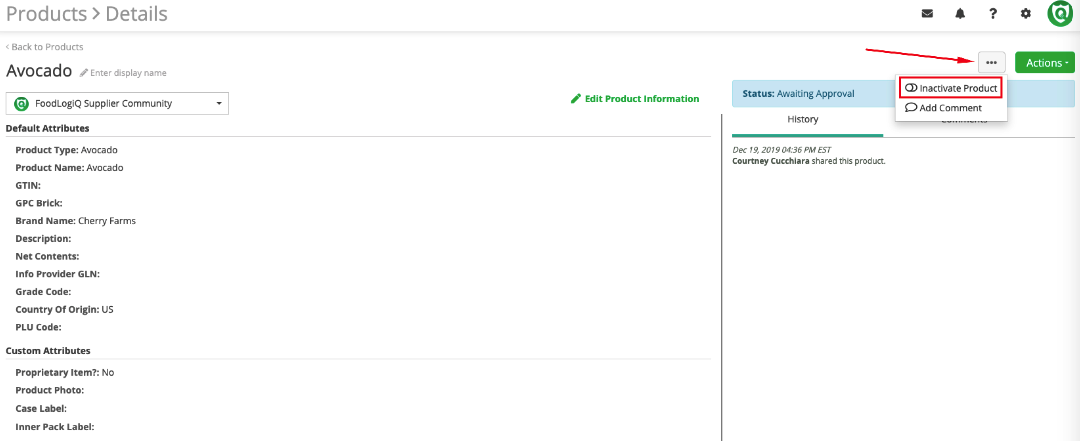 Location inactivation also removes inactive locations from drop-down menus on all Incident and Event types, and filters those locations from your Dashboard widgets. Inactivating your own locations (for example, closed restaurants or distribution centers that have moved) preserves the historical record associated with these sites, while excluding them as selectable options for future incidents and events.
To Inactivate a Location, find the location on your list view:

Within the details of the Location, click on the "..." icon in the top right-hand corner and you will see the option to "Inactivate Location":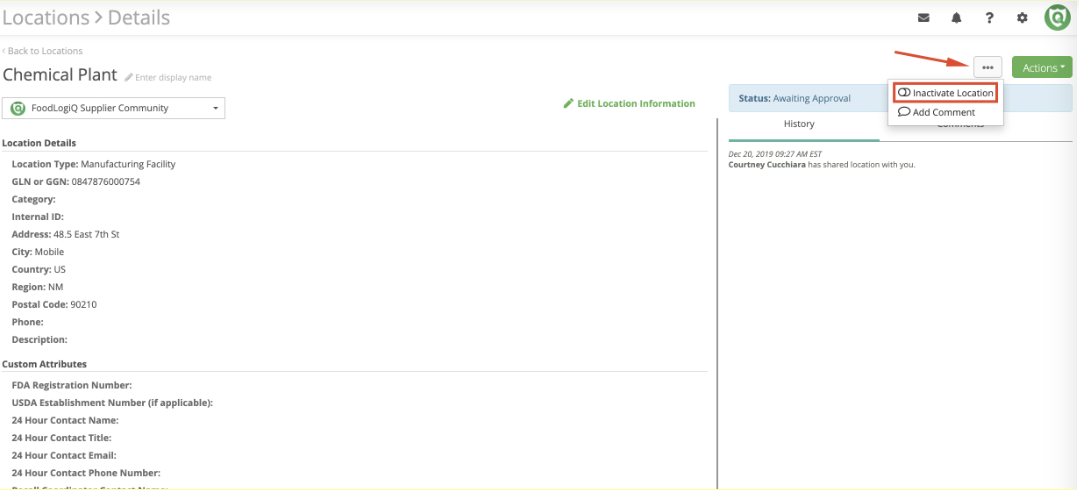 Moving a supplier to an inactive status sends a notification to the supplier, along with displaying a banner on their Connect Dashboard notifying them that they've been inactivated in your community. You can use filters on reports and views in Connect to exclude inactive suppliers from those tools. Using an inactive status on a supplier does not inactivate their products or locations, to allow for existing inventory to be represented in Connect.
To Inactivate a Supplier, find the supplier on your list view: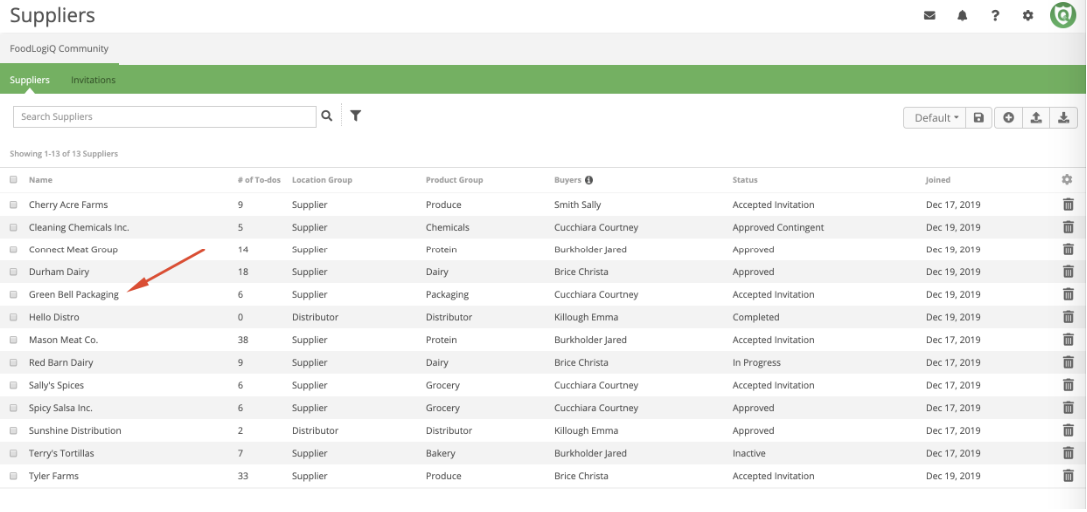 Withing the Supplier Summary Page, you will see the Status listed in the top right of the page. Click on the pencil icon next to this field to then be presented with a drop-down list of all possible options to change the status of the supplier. Select any of the statuses under the Inactive category.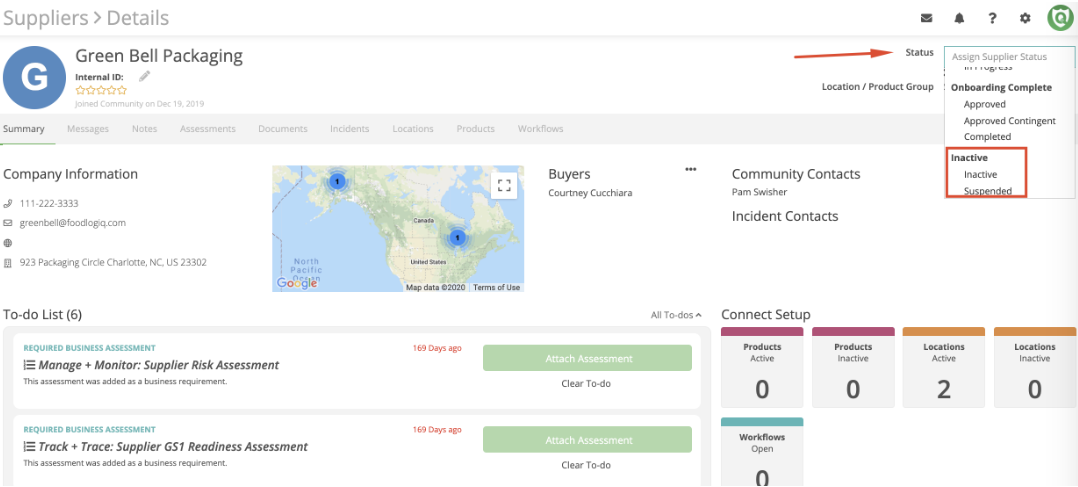 For documents associated with inactive suppliers, inactive products, or inactive locations, the archive feature allows community owners to preserve historical documents while ceasing requests for updates. This feature is also great for handling document types that have been removed from use by suppliers. By tagging a Document as "Archived", it will be removed from your default list view on the Document page but still remain stored within FoodLogiQ for both the Supplier and Community Owner.
To Archive a Document, find the Document on your list view:

Within the details of the Document, click on the "..." icon in the top right-hand corner and you will see the option to "Archive Document":