The ability to customize and save your views is available in the following locations: Suppliers, Products, Locations, Documents, Events, Workflows, and Incidents, Users and Supplier Detail
Customizing Your View
To customize a view, go to the page you would like to edit. There are three customizable areas available:
You can choose to reorganize your columns by dragging and dropping column headers.
You can also choose which columns you want to appear on your view by clicking on the cog wheel icon on the right-hand side of the page. This gives you the ability to select or deselect any available columns.
In some cases, you will want to filter your list so you can quickly see results that need your attention. Simply select the filter icon located next to the search bar. Then click on the filter and choose the data you want included in your view.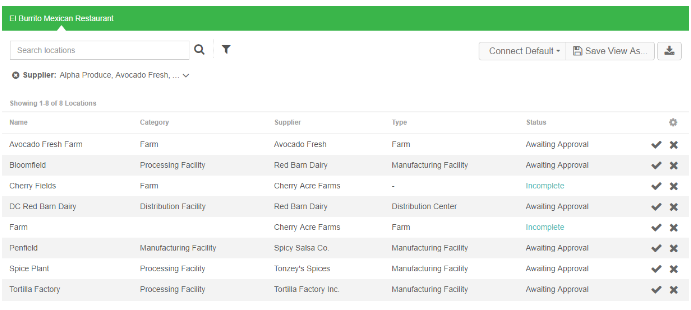 Date/Time Filters
You have the ability to filter any date fields both statically and dynamically. Filtering statically allows you to save queries within a specific date range, or before/after a specific date. Filtering statically allows you to save queries like 'events in the last 30' days or 'documents expiring in the next month' that will always reflect the selected time period.
Filter on Blank Values
If you need to find items that have missing data, you can also choose set your filter to show blank values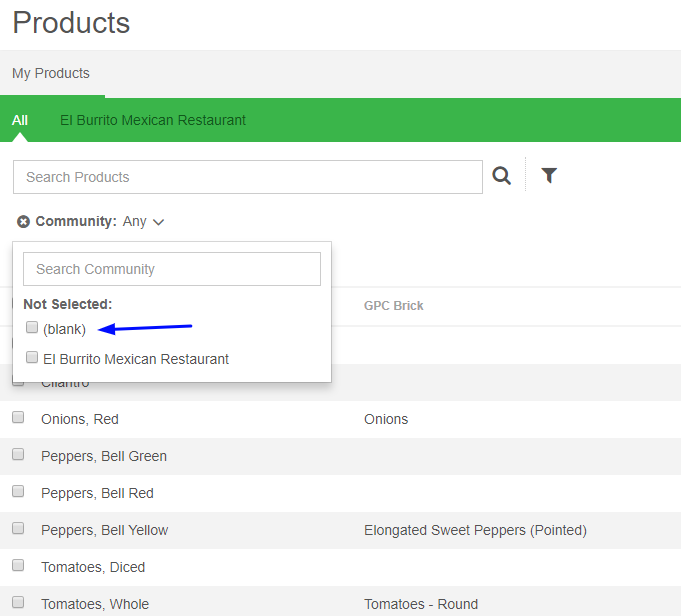 Saving Your New Custom View
Once you have your custom view set up, then save it in order to access it later by selecting the "Save View As" button

in the upper right corner. Once you have your custom view set up, you can share it with others in your community. Read more about Sharing Views here. You also have the option to set the view as your default which will automatically show this particular view every time.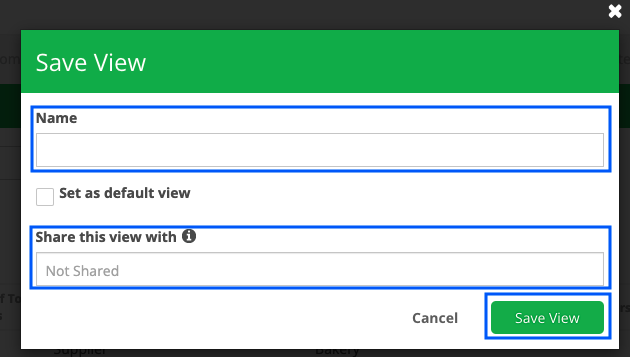 Using your Custom Views
You can view all of the custom views you've created and that have been shared with your role by clicking the name of the view. All your saved views appear at the bottom of the dropdown list. Simply select the view you need and all the customizations you saved will appear.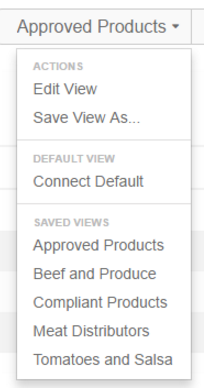 Update an Existing View
If you already have saved views, you will be able to save updates you make to that view or even edit the properties of that view by clicking on the name of the view. Once clicking the name of the existing view you wish to edit, you are provided a dropdown menu with several options: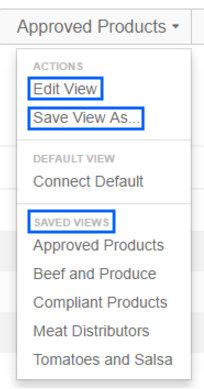 To edit the properties of an existing view, click Edit View. If you've modified an existing view and want to save it, simply click the Save View button

. If you wish to save a new view, click Save View As....
Example Saved Views
Below are some example of customized views:
Filtered by Product Approval Status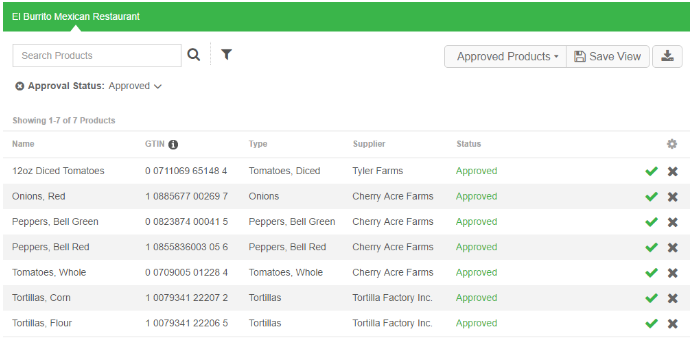 Filtered by Distributor Type

Filtered by Product Type