Overview
FoodLogiQ Connect can be used to generate GS1-128 compliant labels for any product in your account that includes a GTIN. There are variety of label formats available and the different fields required for each will be outlined below. Many of the label attributes will be pre-populated based on the product and location details that you add to your account.
Printing
FoodLogiQ Connect will produce a .PDF version of the label. The .PDF file can be printed on any printer connected to your computer or downloaded and shared with any printer ready device. Also, GS1 US has a directory for finding solution providers. https://www.gs1us.org/tools/solution-provider-finder/solution-provider-finder. They have a number of certified partners who can provide you with the software and hardware to create and print labels.
Instructions to Create Labels
Step 1: Login to Connect

Login to your account within FoodLogiQ Connect at connect.foodlogiq.com, and click on "Products" in the left navigation menu.
Step 2: Find your Product
Find the product you need to create a label for and click on the label creation button

, found on the right side of each product.
If you do not see the product needing a label, you can add the product by selecting the Add Product button

.
NOTE: To create a label for a product, that product MUST have a GTIN associated to it. If you don't see the label creation button for a particular product, add a GTIN to the product.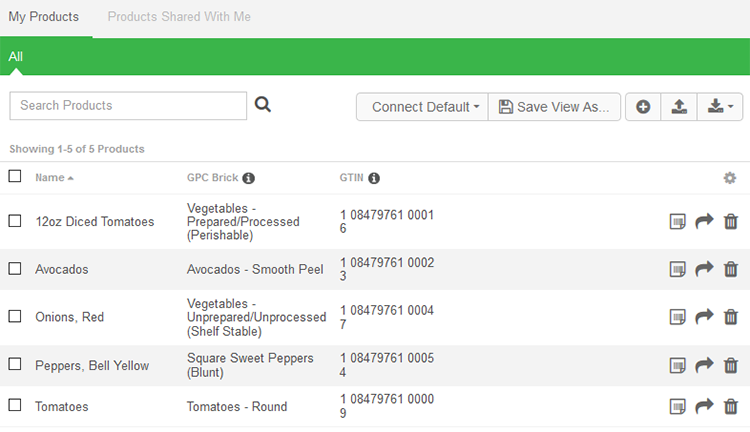 Step 3: Verify Label Details
You should now see the Label Creation window where you will be presented with a number of selection options.
Note, Connect offers you the opportunity to create Labels in either English, Portuguese or Spanish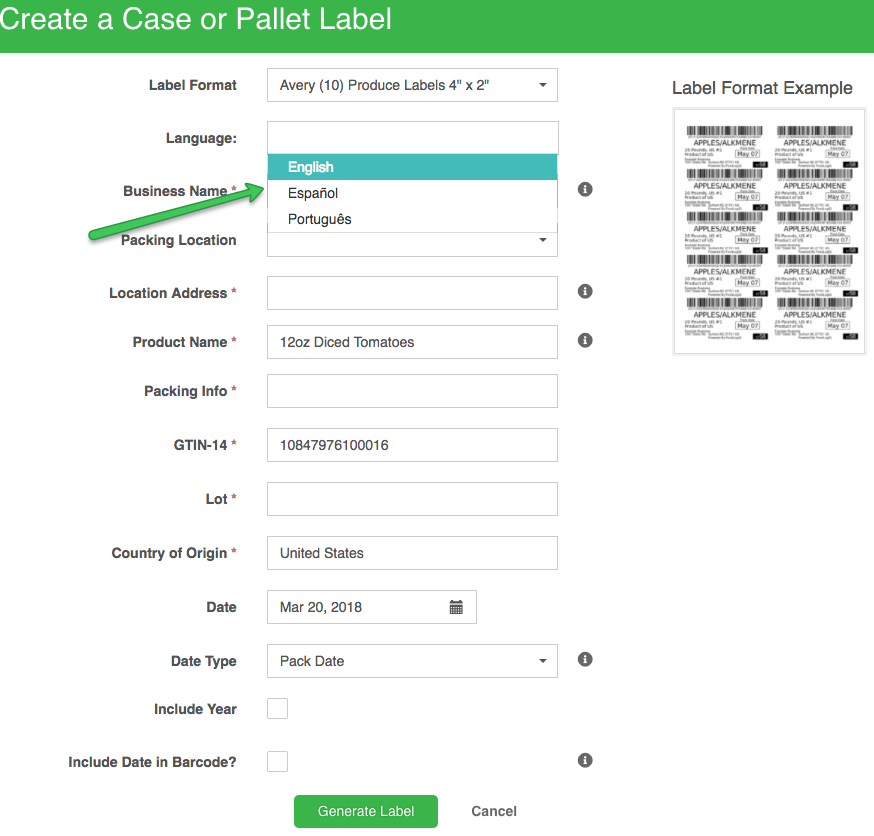 Select the desired LABEL FORMAT. Upon selecting your LABEL FORMAT, the appropriate label fields will be presented based on the label requirements. Each format is GS1-128 compliant, but they all have some differences so we recommend you check with your customer for any specific label requirements.
The Avery format will generate a file with 10 labels that are ready to printed on an Avery label sheet. The other formats will generate a single label.
Many of fields will be pre-populated with data stored in the account, but you have the opportunity to modify the information if desired. See an explanation of the different fields below:
Label Fields
BUSINESS NAME: Automatically populated based on the information stored in the Company Name field found under Settings > Admin > Business Information.
PACKING LOCATION: Drop down list populated with any Location that has been added to your account. If you do not see the location in the drop down list, you can navigate to the Locations tab to add a new location.
LOCATION ADDRESS: Automatically populated based on the Address Line, City, State/Region and Country of the selected PACKING LOCATION. If the information is incorrect, you can permanently update by navigating to the Locations tab and editing the details.
PRODUCT NAME: Automatically populated based on the Product that was chosen in step 2.
PACKING INFO: Automatically populated based on two fields in the Product details: Net Contents and Grade Code.
GTIN: Automatically populated based on the GTIN of the Product selected.
LOT: Automatically populated with a default Lot Code when a PACKING LOCATION is selected, however this can be overwritten with any desired lot code.
COUNTRY OF ORIGIN: Automatically populated based on the Country designated in the Product.
DATE: Manually input by the user at the time a label is created.
DATE TYPE: Select the type of date that should be used on the label.
INCLUDE IN BARCODE: The date is an optional element on the barcode. Select whether it should be included or not.
Step 4: Create the Label
Once you have selected all of the appropriate fields, click the Generate Label button.
A new page in your browser will open with the end result.
Single Label (sample)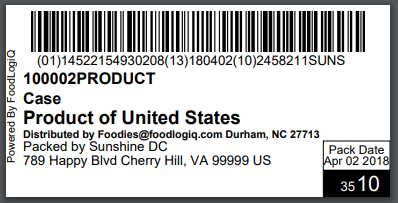 Avery Label (sample)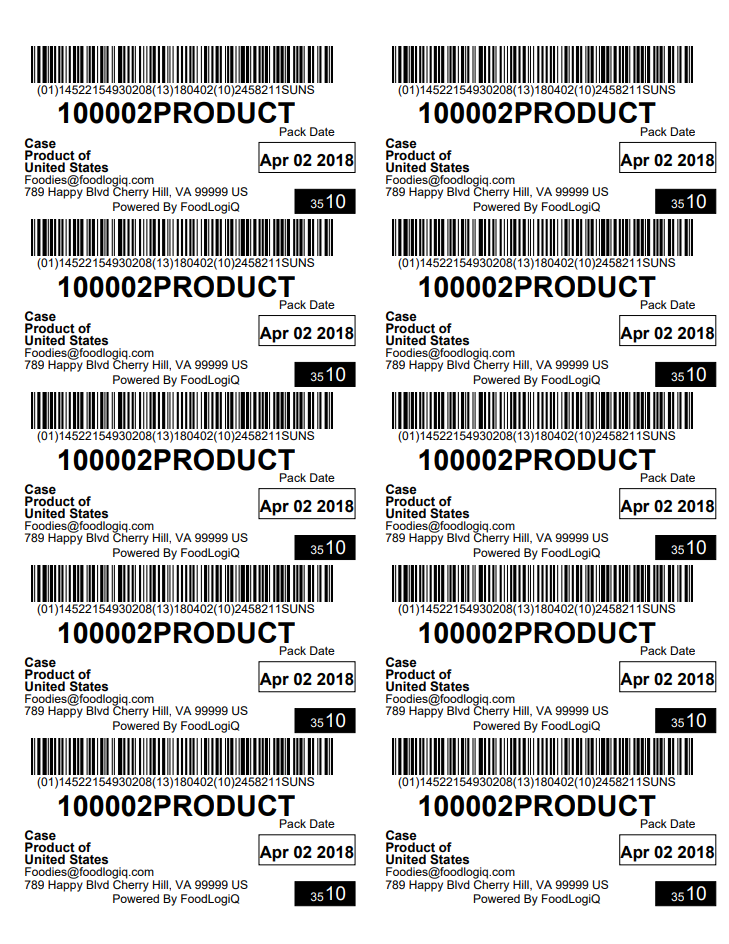 TROUBLESHOOTING: If you are not taken to this label page, a few steps should be taken to troubleshoot:
Check that all required fields (denoted with *) have been populated.
Verify that Pop-Up Blockers have been disabled for connect.foodlogiq.com.
Step 5: Print the Label
The label generated will be in a format that can be printed to any printer connected to your computer. Additionally the label can be saved as a .PDF and transferred to any other computer with printing capabilities.
NOTE: For help printing your label please consult your printer manufacturer's documentation.