Withdrawal templates enable you to prepare consistent messaging that is ready and available in the critical moments of a product removal. With pre-configured messaging and notification schedules, you can quickly initiate a product removal by selecting your pre-configured template. For further details on creating a Withdrawal, see this article.
In determining how to setup your withdrawal templates, think about the various product removal scenarios you want to plan for, and consider some of the following questions:
Do you have different messaging based on the severity or type of product removal (eg Class I Recall versus Market Withdrawal)?

Do you communicate to different individuals or stakeholders based on the type of product removal?

Does the frequency of your communications differ based on the type of product removal scenario?

Do you have escalation contacts you communicate with when a location you've contacted hasn't responded to the removal within a certain timeframe?
Getting Started Creating a Withdrawal Template
1. Go to the settings menu by clicking the cogwheel

icon in the upper right corner, then select Admin from the dropdown
2. Select the Withdrawal Templates tab.

3. To create a new template, click the

button.
4. Name your template something meaningful (eg based on the type of product removal you intend to use it for).
Configuring Attributes
Some of the default attributes have the ability to be made visible on the response page used by responding locations to report removed product quantities.
Use the

Visible to Responders

checkbox to toggle visibility of default and custom attributes on or off.

All attributes will be visible on the withdrawal's Overview page.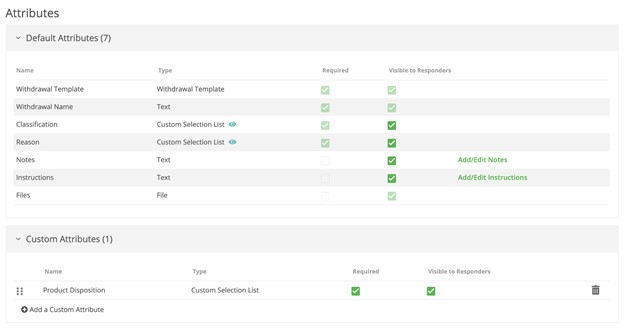 Notes and Instructions can be saved to your new template and prefilled when initiating a removal.
Customizing Communications
Responding Locations are locations that you want to respond to the withdrawal notification by entering quantities of removed product.
For each location category (eg Restaurant) and contact type (eg Food Safety), you can configure the methods of communication, the templated messaging, and the communication schedule for that contact.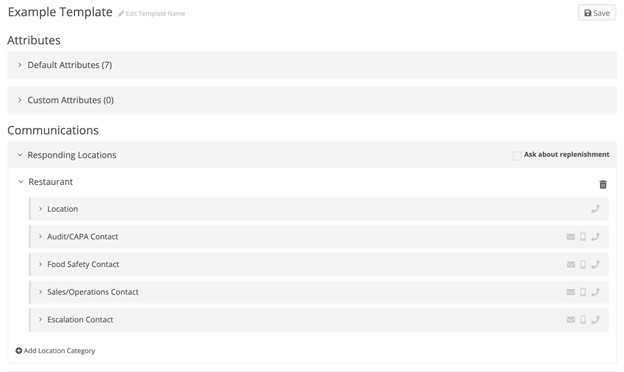 Location
For locations with a Phone Number, you can opt to call them directly.
Contacts
Each location can have one or more contacts of each of four contact types (Food Safety, Sales/Operations, Audit/CAPA and Escalation Contacts).
For each of these contacts, you can choose to configure communications by Email, Text Message, and Phone Call, in any combination.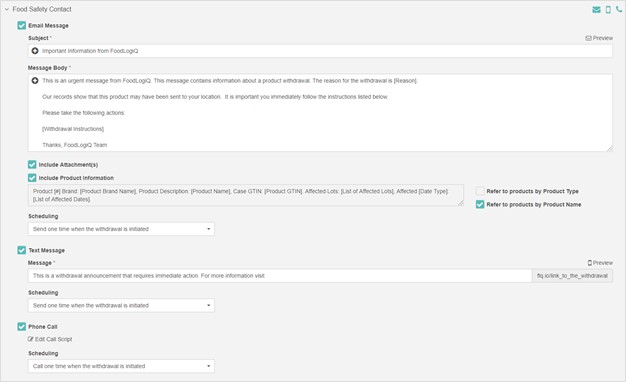 Note: Contacts intended to receive Text Message (SMS) notifications must have a US based mobile number (in the "Mobile" field). Phone call recipients need only have either a "Phone" or "Mobile" number to receive phone communications.
Scheduling Communications
You have three options for how to schedule communications for email, text message and phone calls. Each communication method has its own configurable scheduling cadence.
Call or Send one time when the withdrawal is initiated.
This option will send an immediate communication when a removal is initiated.
Send at certain intervals
This option provides for both immediate and repeated notifications, based on a selected interval. You can also constrain the notification time window based on a contact's local time zone. This can be helpful to restrict communications to working hours.

3. Send at specific times.
Allows you to send your message at specific times of day, in a contact's local timezone. You can select up to 5 specific times (including when a removal is initiated). For example, I may want to pick specific times that are outside of a store's lunch or dinner rush.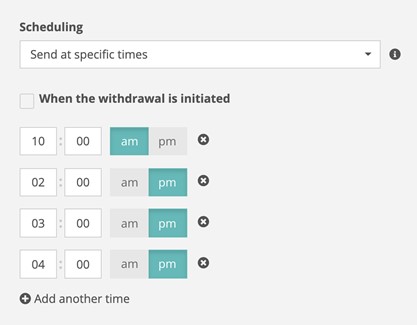 Preview Communications
For email, text message and phone call communications you can test your configured messaging using the preview option.
Want to learn more about Recall and Withdrawal Management in Recall + Response? Check out these quick videos or submit a request below.