There are several types of data that Suppliers can share with Community Owners. All types can be found on the left side navigation bar of the screen: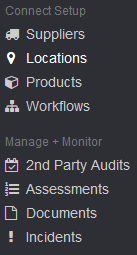 The four sections with reviewable information shared by suppliers are Products, Locations, Assessments, and Documents. Each section has the same general flow that lets you review the item, issue feedback on it, and eventually approve. The details of those steps are described below. The information reviewed in this section is owned by the supplier and cannot be modified by a Community owner. Please take advantage of the review process to request changes to each item.
When you navigate to Products using the left navigation in the picture it shows all products shared to a community. Once you click on a given section make sure you select Items Shared With Me as pictured below. Not clicking on that section shows items owned by the Community and not shared by the suppliers.

An alternative way to see the information shared by suppliers is to drill into the details of the supplier. If you click Supplier on the left side navigation a list of suppliers is presented. By clicking on an individual supplier the details of the information shared by that supplier are displayed including Products, Locations, Documents, and Assessments. When viewing details of a specific product or location, Community Owners can click on the hyperlinked Supplier name to be brought directly to the supplier's detail page.

Data Review

Each of the items listed above have three potential status
Awaiting Approval
Rejected
Approved
Details on completing the product, location, and document reviews can be found on the linked pages. The assessments are treated a little differently. Instead of reviewing the whole assessment each individual question is reviewed. The process for reviewing an individual question is similar to what is described in the above Knowledge pages for the other supplier items. If a correction is needed, select the request corrective action button. That opens a comment box that is sent back to the supplier for an update.
When performing reviews of supplier shared information it is often helpful to adjust the view of the table. The tables used to display products, locations, documents, and assessments can all be searched, filtered, and columns configured to meet the needs of the action. Instructions for setting up views can be found here. When reviewing information within the list view, users have the option to export all columns of data or only visible columns.