Missing Attributes To-Dos helps ensure that suppliers are populating all required attributes for their products, locations, and documents directly from the supplier to-do list shown on their dashboard. These Missing Attributes To-Dos occur when:
A Community Owner adds a new required attribute to the product and/or location type.
A Community Owner changes a previously optional field to required.
A Community Owner adds on behalf of a supplier via bulk upload for products and locations with incomplete required attribute information.
A Community Owner adds a required attribute to the document type.
Please note: A supplier will ONLY see a Missing Attributes to-do on their to-do list if required attributes are not complete on their documents, products, and/or locations.
The Supplier To-Do List can be filtered by the to-do category - allowing the user to quickly find To-Dos pertaining to assessment requirements, document requirements, expiring documents, or items with missing attributes. To find out more about assessment requirements, document requirements, or expired documents to-dos, click here.
Steps to Completing a Missing Attributes To-Do
1. If you have Missing Attributes To-Dos, you will see them on your dashboard. To show only Missing Attributes to-dos, you can use the filter option on the top right of the to-do list and select Items with Missing Attributes. Within each 'Missing Attributes' to-do card you will be able to identify if this to-do is for a product, location or document.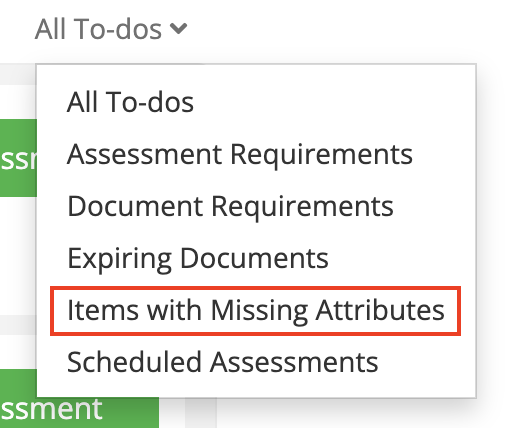 In order to update the missing attributes simply click on the green action button on the to-do card. Only users with edit permissions will be able to update the appropriate object, and you will only see one to-do even if the item has multiple required attributes that are not populated.
Please note: Only Community Owners will be able to clear Supplier to-do items within their supplier details view.


Once you select the green action button, you will see the object information, with the required text fields in red along with an asterisk.
Complete as much information as possible. The Missing Attribute To-Do will remain on the Dashboard until all required attributes are complete and saved.