You can divide responsibilities for managing supply chain members, similar to how you may manage them internally by assigning a "Supplier Manager" to each supplier. You can also view compliance of your supply chain by filtering by Supplier Manager within Analytics.
There are two types of notifications that any user that is assigned as a "Manager" to a Supplier in FoodLogiQ Connect.
Document Expiration Notifications for that supplier -- Notification Severity preference of Medium (this is set by default)

Supplier Expiration Notifications for that supplier - If you mark a supplier as any status within "Onboarding Complete" category, you can optionally set an expiration date for that supplier. Notification Severity preference of Low (this would need to be updated by you in your Notification preferences - click the bell icon, then select the gear icon to update your preferences, if you wish to receive)
When inviting your supply chain to join your community, you can assign a Supplier Manager one-by-one, or import your supplier list in bulk by Supplier Manager.
Single Assignment
Select the Supplier Manager from the dropdown menu when submitting the "Invite New" supplier form. Example below.
Bulk assignment with Import Supplier Template:
1.Download Supplier Template (contains 4 column headers: Business Name, Email, First Name, Last Name)

2. Fill out template and save as .csv file. (Be sure to keep column headers as they appeared upon download and in same order).

3. Upload Supplier template from "Invite New" within the Suppliers page.
4. Once you import your suppliers from your .csv spreadsheet, you are presented with a preview of the information you submitted on the right and a set of dropdown menus on your left. You can bulk assign these suppliers to Location & Product Groups as well as assigning your Supplier Manager.
Select Supplier Manager from dropdown menu, then click "Send Invite"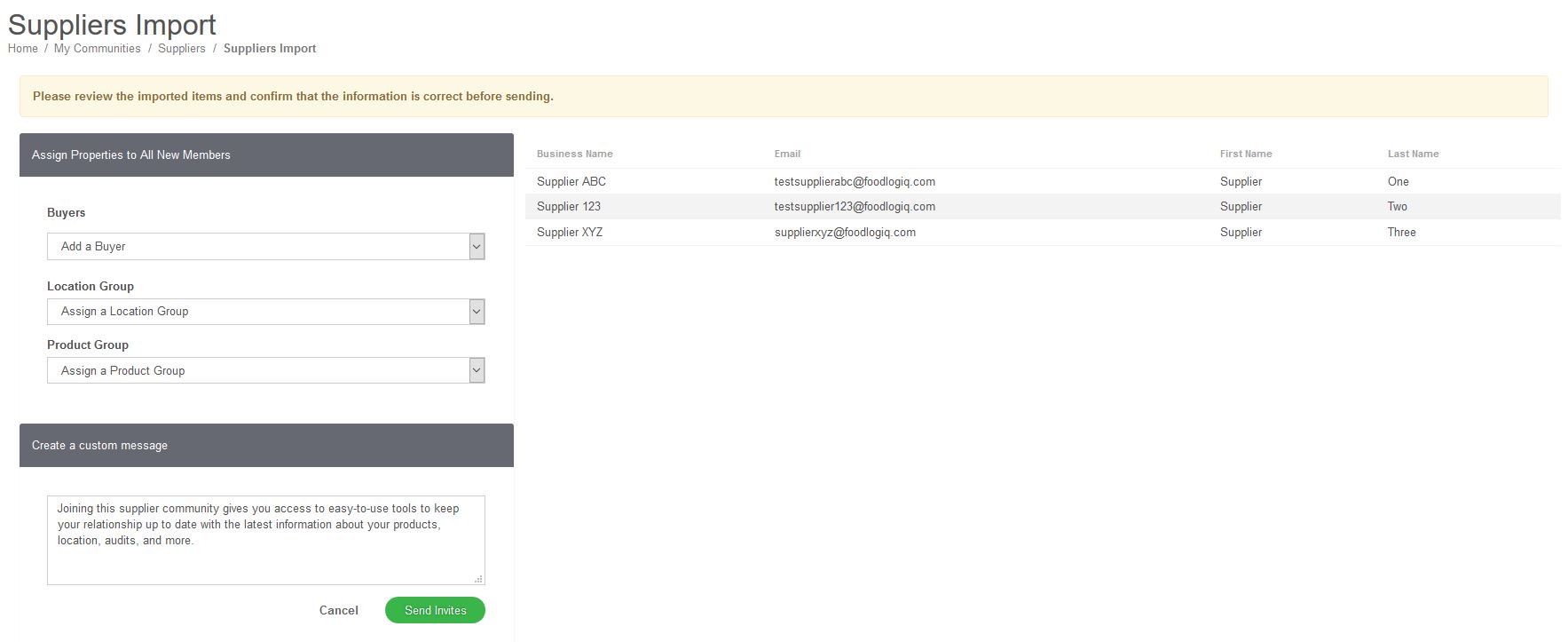 Edit/Reassign Supplier Manager
If you need to update the Supplier Manager assigned to a supplier, go into your Supplier page within your Community and select the supplier you want to edit. From there, Click the

button in the Supplier Manager's section and click Edit. Then, click in the "Add a Supplier Manager" box for a dropdown list of Supplier Managers to choose from: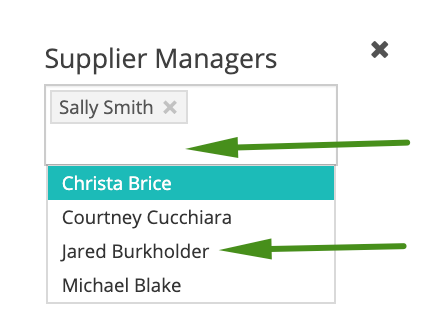 Set up a Supplier Supplier Manager role
If you want the ability to add Supplier Managers, you will need to set up a role that has the "Supplier Manager" permission enabled. Follow these steps to set this role up:
1. Go to Admin
2. Click on "User Management"
3. Click on the "Roles" tab
4. Select "Create a new role"
5. Make sure the "Supplier Manager" role under the Supplier Information section is enabled: