As a Community Owner, you can preview what your community members or suppliers will see when they are onboarding, which means they have a status of within the "Onboarding" category. To learn more visit Customizing Supplier Statuses. Once you assign them a status in "Onboarding Complete" Category, such as "Completed" or "Approved" by changing their status, they will no longer see this, and will begin viewing the "Supplier Dashboard".
As a supplier, when you login to FoodLogiQ Connect you will see your Community Dashboard. At the top you will see a cover photo and logo alongside your customer's name. If you are a member of multiple communities in FoodLogiQ you may have multiple options in the dropdown menu. Click the arrow next to the customer name displayed to view other community dashboards available.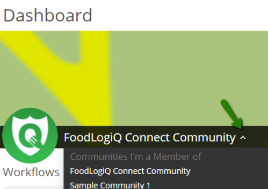 Within your Community Dashboard you may find up to four (4) sections of information pertaining to your onboarding: Quick Actions, Workflows, To-Do List and Information.
Quick Actions: This will allow suppliers to quickly and easily add users, share locations, or share products with their customers without the need to navigate to specific areas of the platform.
Workflows:

A step-by-step guide may be included at the top of the page to walk you through the completion of tasks, commonly adding users, updating business information and adding products and/or locations.

To-Do List:

A list of missing or expired documents, and assigned assessments that need your attention. Required items will be sorted at the top, with optional on the bottom.

Community Information:

The orange box on the right, shown in the image below, is customizable by your customer and will often contain links to helpful resources, such as how-to articles or recorded training videos, as well as displaying contact information if you need further assistance throughout the onboarding process.