When configuring your incident types you can customize your email notifications that are sent at each step of your incident flow process. For example, you may wish to modify the subject line to indicate the current status or include contents of the incident form within the body of the email to quickly inform the recipient. By default, a link to the incident will always be included in the email. If you have not yet setup your incident flows, you will want to visit our Configuring Incident Workflows article.
In this article, we will review some best practices when setting up your incident email notifications.
Navigating to the Incident Flow Section
Go to the Incident Types page by clicking the settings icon , selecting Admin from the dropdown and navigate to the Businesses > Incident Types tab
Select the incident type you have already setup. If you have not yet created an incident type, visit our Creating New Incident Types article.
The Incident Flow area is the second section on the page and can be best viewed by minimizing the Fields & Attributes section.
Customizing Content of Your Email Notifications
You can also modify the subject line and body of the message that is sent to users you set to be notified when an incident is transitioned to a step.
Click the icon to view the default email notification.
You can use the button to populate fields from the incident or other details about the incident. For example, at each transition step, users can add an optional comment, you can include this comment by including [currentStatus.Comment] in your message. You can also add details like "Incident ID" ([aliasID]), or "Current Status" ([currentStatus]), or select from the list of available fields.
Click OK once complete. See examples below.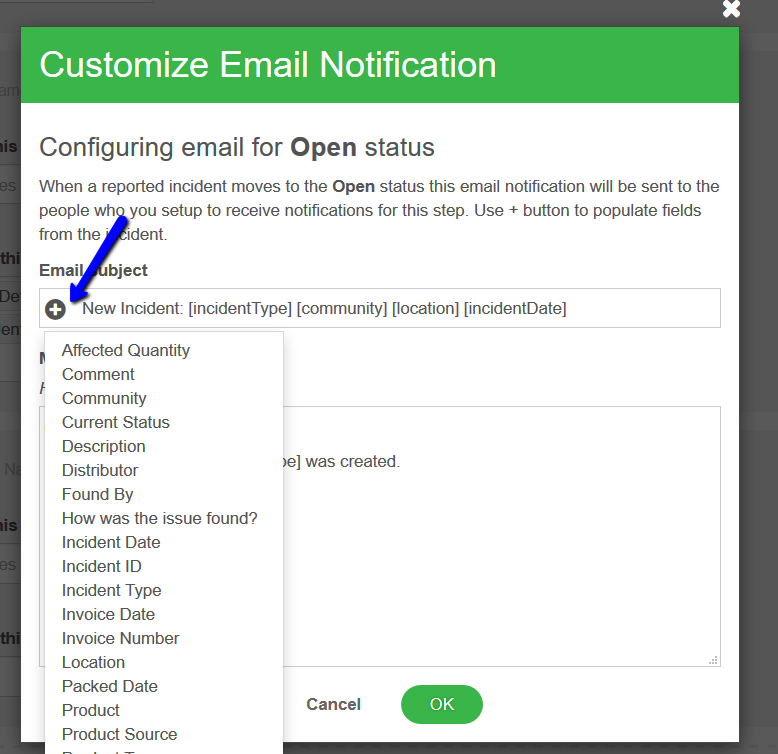 Example 1: Notify Incident Reporter that an Incident has been Resolved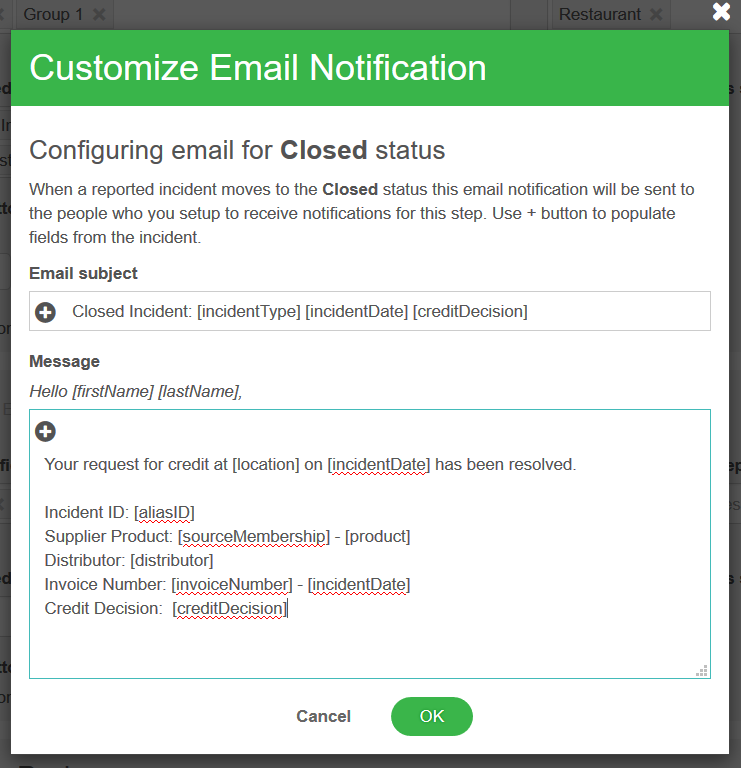 Example 2: Notify an Incident Reporter that their Report has been Returned.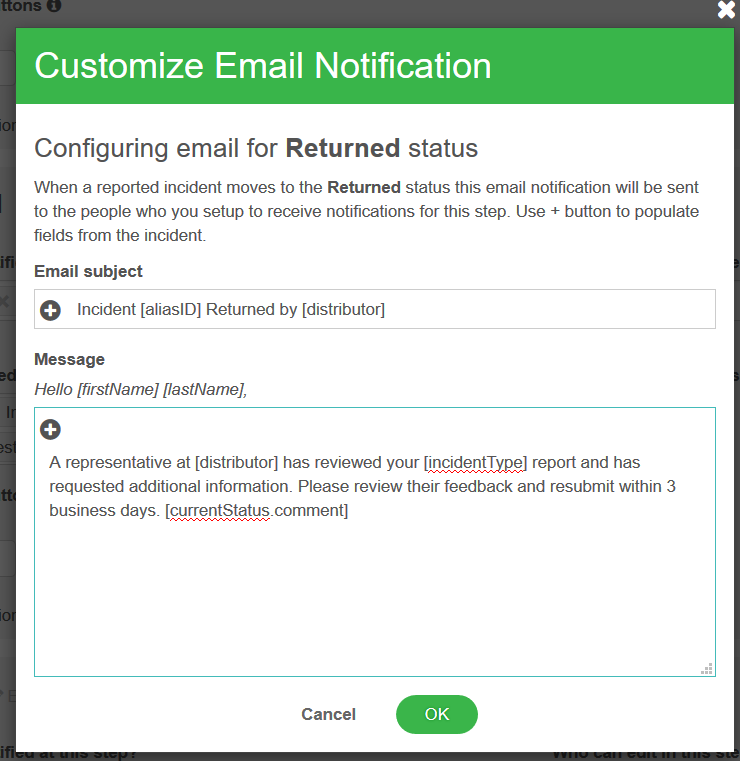 Who Receives Email Notifications

Internal Steps:
When an incident transitions to this type of step, only your internal users may receive a notification. By default no one receives an email at this transition, unless you select one or more roles in the dropdown list, or choose the Incident Submitter (the user who originally created the incident). Location and incident type permissions are included in the logic when these emails are generated. For example, if you selected a "Restaurant" role to be notified when a credit was issued or a delivery was scheduled by a distributor, a user will only receive an email if they have access to the location where the incident was first reported, and have been granted permission to the incident type overall within their custom role. To learn about setting up custom roles visit this how-to article.
Here are some additional scenarios where you may want to include custom roles to receive email notifications:
Alert your accounting department when a credit was issued.
Notify incident submitter and/or users with restaurant or regional manager role when a distributor has returned the incident requesting more information or clarification.
Send an email to an internal Quality Assurance team who reviews incidents for completeness before submitting to a distributor.

Product Supplier or

Supply Chain Member Steps:
At the Product Supplier or Supply Chain Member Steps there are multiple settings that determine who gets notified at this step. Here is a breakdown of who gets notified:
Supplier Locations - When incidents are reported and one of your locations is specified on the incident,, and you have selected a location level Incident Reporting Contact, they will receive the email.*
Business Contacts for All Locations - If you do not assign location level contacts or no location is specified on the incident, , then your business contacts are notified.*
If you have assigned business-level Incident contacts, they will receive emails.
If you do not assign a business-level Incident contact, then your Community Contacts will receive emails for incidents.
*Please note - your Community Owner may need to review your assignments and approve changes to your locations prior to these notifications being sent. Please contact your customer or support@foodlogiq.com if you are not receiving notifications.
For more information on Incident Reporting Contacts, you can view the article here.

Distributor Steps:
The Incident Reporting Contact assigned to the location that was selected in the Distributor field within the incident form is the one who will receive the email notification. If these contacts are not identified then the distributor's business-level incident contact will receive the notification. If there are no such contacts, the distributor's community contacts will be notified.
Your distributors may need to invite their individual location customer service representatives who handle credit requests as users into their accounts, then assign them as the relevant contacts per location. You can review which users are assigned to each location by adding the Incident Reporting Contact column to your Locations Shared With Me list. See example below.

Setup Due Date
You can optionally configure due dates per transition step within your workflow. Reminder emails will be sent at a specified number of days or hours that you indicate until the step has been transitioned. The original recipients of the message will receive reminders. The message will be the same with the addition of "REMINDER:" in their subject line.
Click the

icon to adjust your settings. Once set and incidents are reported, you will be able to view the due dates within your Incident list view page and apply filters to determine which are past due.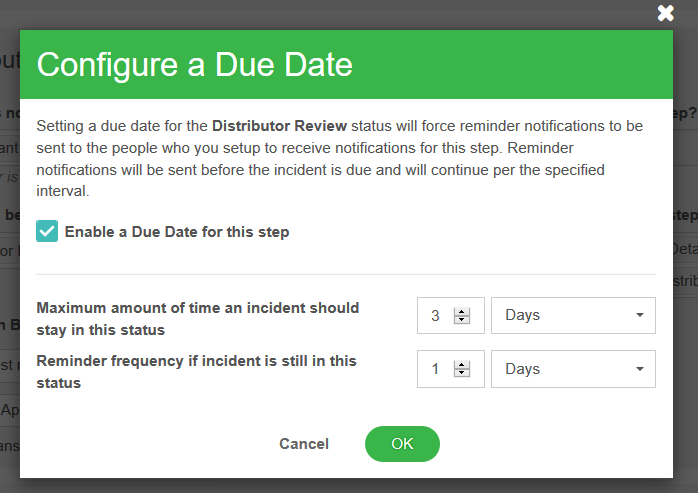 Want to learn more about Incident Management in Manage + Monitor?
Check out these quick videos or submit a request below.