Overview
Community Owners have the ability to start, stop, cancel, and delete scheduled assessments. The scheduled assessment list view is the first step in navigating through the scheduled assessments. This will show you what you can do and the available options.
Accessing Scheduled Assessments
Login to your business account within FoodLogiQ Connect (connect.foodlogiq.com).
Click on the cog wheel icon () in the upper right corner.
Click on the Admin link.

Click on the Assessment Setup tab.
Select Scheduled Assessments.

You are now on the scheduled assessments list view.
Starting a New Scheduled Assessment
To start a new scheduled assessment, click on the plus button (

). For further instructions on starting a new scheduled assessment, please refer to the Scheduled Assessment article.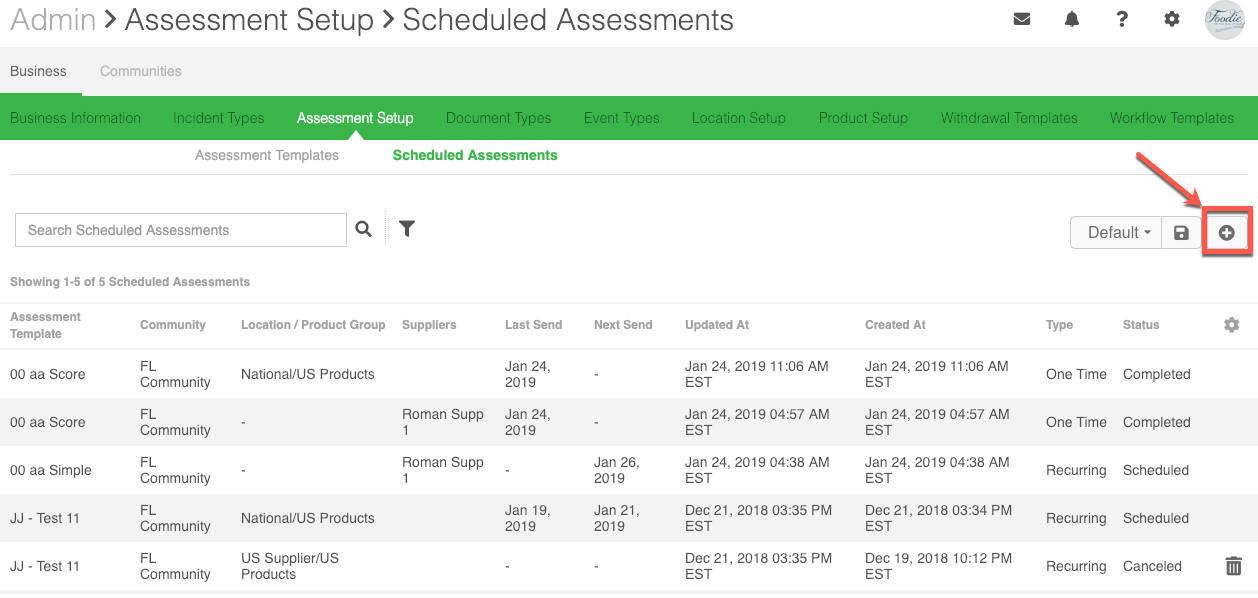 Searching and Filters
If you have several scheduled assessments and want to narrow the results, you will need to make use of the search bar and filters. Please note that the search bar will only search for complete words. Partial words and wildcards are not accepted. Filters are very useful in finding sections of assessments based on a wide variety of options.
Click on the filter icon ().

Select as many or few options as you want, then click the OK button.

Click on the filter name to enter information for filters, or click on the x icon to remove a filter.

If you would like to save your filters as a view, you can do this by clicking on the Save button. For more information on filters, please view the Customizing and Saving Views article.

Deleting a Scheduled Assessment
Scheduled assessments may only be deleted from the list view if they are in the status of "Cancelled" or "Draft".
To delete a Cancelled or Draft scheduled assessment click on the trash can icon () next to the assessment.

Another popup will ask you to confirm if you wish to delete this assessment. Click on Delete to do so.
To delete an assessment that is scheduled to begin, click on the row of that assessment.
Click on Cancel Schedule.

The next screen will confirm if you wish to permanently cancel this assessment. If so, then click Yes.
This will take you back to the list view screen. You can now see that your sceduled assessment has a trash can icon next to it. Click the trash can icon to remove it completely.