Users who are creating an ad-hoc supplier assessment on behalf of their suppliers or are performing an internal audit can specify a custom name for the audit or assessment. This can allow for easier identification from the audits list view page.
How to give your audit or assessment a custom name
1. Once logged into Connect, click on Audit & Assessment left navigation.
2. Select Internal Audits or Supplier Audits and Assessments.

3. If you have permission to create an audit, you will be able to click on the Add Audits button for Internal Audits or the

button for Supplier Audits to generate a new ad hoc audit or assessment. A pop-up window will appear to select the template, supplier, and to give a name.
4. After selecting an audit template and supplier (for Supplier Audits only) or Location (for Internal Audits only), a default audit name is populated in the box based on the specified data.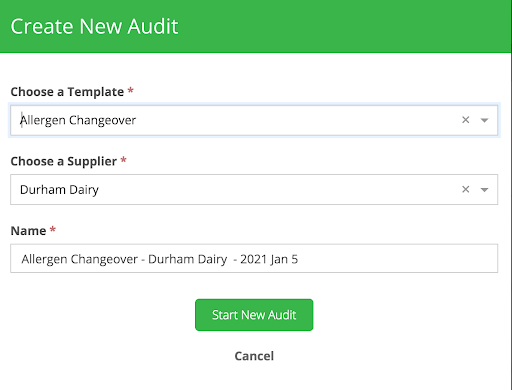 5. You can leave the default audit or assessment name or you can edit it. After clicking the "Start" button, the audit or assessment's name is persisted in the name field and can no longer be edited.