Overview
FoodLogiQ offers the ability to submit Critical Tracking Event data via an online web form to try to make it easy for users who may not be able to develop more automated processes. The online submission allows users to add Harvesting (Aquaculture), Landing, Shipping, Receiving, and/or Transformation Events via our online form. Users will select the template for the customer they are submitting information for, and access any custom fields they are requiring so that the required data can be entered.
Instructions for Submitting Individual Events
Login to your business account within FoodLogiQ Connect (

connect.foodlogiq.com

), and click on "Events" on the left navigation menu.

Click on the "Add Event" button on the top right-hand side of the page to access the web form.
Select the appropriate Event Type from the drop-down menu (Harvesting (Aquaculture), Landing, Shipping, Receiving, or Transforming). This will allow you to populate the Event form specific for the customer requesting your submission. The example below is a Shipping Event. If you are a member of multiple communities, you would have multiple related event types.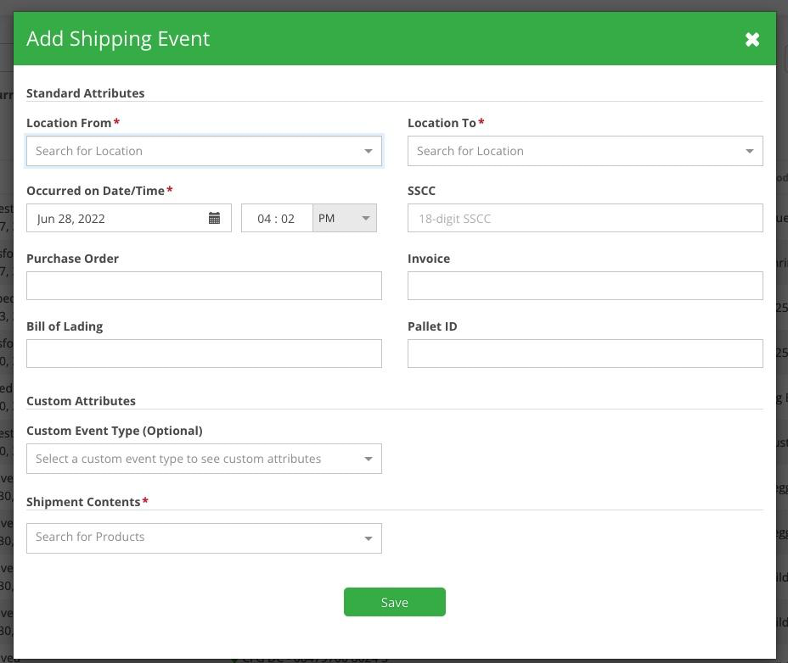 Contact your Community Owner/Customer who invited you to join their Community for information regarding their Event templates.
Complete the form by adding the appropriate information related to your event. For example, every shipping event requires a ship date, ship from GLN, destination GLN, GTIN, lot or serial number, quantity and quantity unit of measure. On top of these attributes, you will include any custom attributes required by your customer. Once complete, click Save.

Location From and Location To: Drop-down menus will only display Locations that you have loaded into your account. Therefore, if you submit event records using the online form, you will need to add the location information, including GLNs, for the locations that you are shipping to or receiving from.
Contact your Community Owner/Customer to obtain a list of GLNs for those locations and then load them into your FoodLogiQ account. NOTE: You do not need to "Share" these locations with your customer. You just need to load them so you can see these locations in your drop-down menus in the online Event form.
Date: is the date of your shipment. The format required is "MM/DD/YYYY".
SSCC: is the 18 digit serial shipping container code (this is an optional field - if entered it must be a valid SSCC number)
Contents: is where you will choose your products from the drop-down menu. Once you have loaded your Product information into FoodLogiQ Connect you will see all of your items listed in the drop-down menu.

Lot or Serial Number: will need to be provided to identify the batch/lot of products you are shipping. If you have multiple lots of the same product within your shipment, you can re-select the product and enter the additional lot code on a separate line.
Product Dates: there should be one date represented in your GS1-128 barcode, represented with an Application Identifier (AI). The list below includes 5 dates that the food industry has agreed for us with food products. That date should be sent in your Event data. Users can send additional dates, as they see fit.
For example, a product may have Packaging Date (13) in the barcode, and the Harvest Date is also printed on the box. Companies may choose to send both dates in their Event data.
Best Before (15)
Expiration/Use By (17)
First Freeze
Harvest
Packaging (13)
Production (11)
Sell By (16)
Quantity refers to the number of trade items (i.e. Cases)
Quantity Units options are "cases, pallets" or "each". Select the most appropriate option.
Customer defined attributes – if your Customer has defined additional attributes that they wish to capture, you will see additional fields at the bottom of the web form. This may include additional attribute fields such as "P.O. Number" and "Bill of Lading".
If you have any questions, please contact them directly. Once you've completed your form, click the Save button to submit.
Previously submitted Events can be viewed on the Events page.

The Event column shows whether it was a harvesting (aquaculture), landing, shipping, receiving, or transformed event.
The Location column shows the Transformation, Ship From, and the Ship To.
You can use the search filter to narrow your results.
To view more detailed information, select an event from the list view.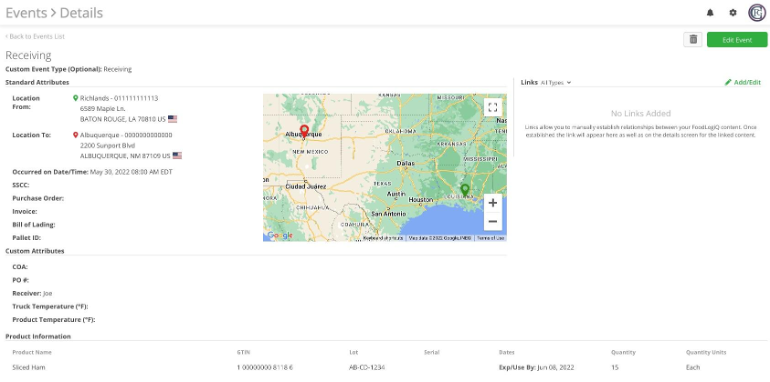 Want to learn more about Events and Investigations in Track + Trace? Check out these quick videos or submit a request below.